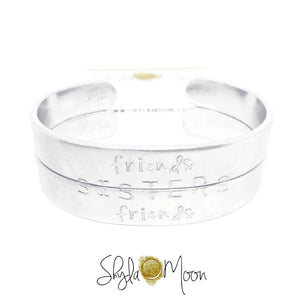 Forget BE FRI and ST ENDS jewelry, I've come up with this unique design of sharing the stamped text between the two cuff bracelets. Kind of like a secret message between you and your sister.
Your purchase includes 2 cuff bracelets stamped with friends (in Jenna Sue font) and SISTERS (Cafe font). the SISTERS portion will overlap so half of the lettering will be one 1 cuff and the other half will be on the other cuff.
Made from aluminum which is food grade and hypoallergenic. It won't tarnish turn your skin green or rust. It's a pretty sweet material to make custom jewelry out of without breaking the bank.
Each cuff measures 3/8" x 6" plus the opening and fits most women.