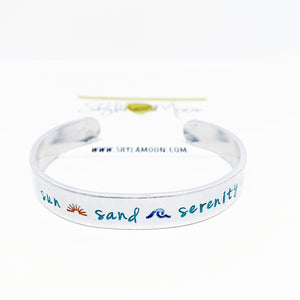 sun (sunshine) sand (wave) serenity

Details:
Size- 3/8" x 6" ( 9.5mm x 152mm) and fits most adults
Hand stamped aluminum- no tarnishing, rusting or turning your skin green. It's light weight, hypoallergenic and food grade (I'm not suggesting you eat it, just letting you know it's more hypoallergenic than Sterling Silver). It's easy care!
Each piece is hand stamped without the use of machines, so every piece will be unique in its own way including alignment and depth of impression. It's what makes yours different from everyone else's!
You'll receive (1) design stamped cuff bracelet as shown in the first photo.